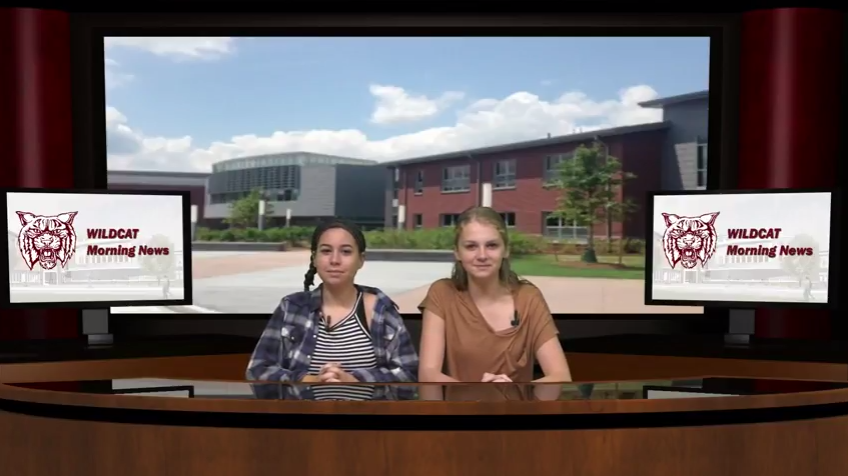 9-12 morning news
John Collins
Tuesday, September 12 2017
Parking - Reminder to our student drivers that you must have a parking pass. You will need a completed form (available in office), a copy of your license and registration and $25.
Beginning on Tuesday 9/12 all cars will be checked to make sure the parking sticker is adhered to your window. Students without a sticker will be called to the office to discuss and repeat offenders will lose their privilege of driving to school. Any questions or concerns please come to the main office.
Today the Wildcat Leaders will be meeting with Ms. Martin's 7th grade Powerblock. After the 5 minute freeze all Leaders should report to room 105.

The drama club is getting ready for a new season and looking for some fresh talent. If you love to act, sing and perform, or wish to be part of the tech crew behind the scenes, drama may be for you. Opportunities are in the works for the fall production, the Massachusetts Educational Theater Guilds' FESTIVAL, or the spring musical, as well as field trips to live theater productions. Join us to learn more at the first meeting on Tuesday, September 12th, in the auditorium at 2:10. Please see Mrs. Brogna if you have any questions.
Love to debate issues, think globally, and be a proactive part of solutions ---then Model U N club may be for you. Any student grades 7-12 interested in participating in Model UN should attend the meeting taking place in the Learning Commons this Friday during power block.
Hello Chess Enthusiasts - The chess club will have its first meeting this Friday in the robotics room. Please see Mr. McMurray for a pass. All are welcome!
Attention any Freshmen interested in running for class office.
Freshmen Class Elections will be taking place on September 28th to select the class officers for the Class of 2021. If you are interested in running, please see Mrs. Longo in room 203 for a nomination form and for more information.
Homecoming Dance has been rescheduled to Saturday, October 28th
For Monday, Tuesday, and Wednesday 9/11-9/13
VOLUNTEERS - COMMUNITY SERVICE HOURS
The BBA needs volunteers early on Saturday morning, September 30, to help with vendor unloading and set up; throughout the day to assist with children's activities, petting zoo, drink sales, etc.; and later in the afternoon to help vendors pack up and for general cleanup of the site. Home Depot has donated hand trucks and dolly carts to move the heavy items, so while there is some physical labor involved. While we will take any volunteer assistance, we would prefer to book students in 2-3 hour blocks of time, beginning Saturday morning at 7:00 a.m. and ending at 6:00 p.m. We have created a page at Sign Up Genius to make it easier for students. Here is a link. http://www.signupgenius.com/go...
GUIDANCE OFFICE: College Visits list is now available on the school website under guidance department. This document will be constantly updating so please check back on a regular basis. There is a signup sheet in the guidance office and you will also need apass to give to your teacher. The first weeks of visits are follows:
| | | | |
| --- | --- | --- | --- |
| 9/18/17 | Leah Miller | 9:00 a.m. | LESLEY COLLEGE |
| | | | |
| 9/19/17 | | 8:00 a.m. | WESTFIELD STATE |
| | | | |
| 9/21/17 | Candace | 8:00 a.m. | SIMMONS COLLEGE |
| | Kathleen Baird | 9:00 a.m. | CURRY COLLEGE |
| | Sean Racine | 10:30 am | SAINT ANSLEMS COLLEGE |
| | Rhonda | 1:30 p.m. | BAY STATE COLLEGE |
| | | | |
SOPHOMORES & JUNIORS

Mark you calendars, the PSAT TEST will be administered this October 11 here at school. Please contact guidance with any questions.

SOPHOMORES …

Applications are being accepted for the Hugh O'Brian Youth Foundation (HOBY) seminar in the guidance office. Each year West Bridgewater has the opportunity to send one sophomore to this all-expense paid weekend seminar, being held at Bentley University. This leadership program introduces high school sophomores to distinguished leaders from various sectors such as business, education, technology, government, science and the arts. Sophomores are encouraged to apply for this opportunity. Interested students can obtain more information in the guidance office.

Last Year's delegate was Valerie Puliafico.

APPLICATION DEADLINE IS THURSDAY, OCTOBER 26.

Attention high school students interested in joining Student Council this year. The first meeting will be held before school Wednesday September 13th at 7am in Room 204. New and returning members grades 9-12 are welcome to attend! Please see Mrs. DeSimone if you have any questions.

Attention all 2018 Yearbook staff - We will be holding our first meeting during Powerblock on Thursday September 14th. Please report to the office conference room with your chromebooks. If you have any issues you must see Mrs. DeLorenzo or Mrs. DeSimone.

Attention Seniors - There will be a senior class meeting Thursday, September 14th during Powerblock in the Auditorium.

Mr. Winchell is looking for two people willing to announce the plays at home football games this season. If you are interested, please see Mr. Winchell in Room 215.

The boys varsity soccer team opened their season with a 2-0 win against Bristol-Plymouth yesterday. CJ Dunn and Kevin Lawler scored the goals. Luke Sarantopoulos had an assist and Justin Baker had a strong game in the net.

The Boys JV Soccer team beat Bristol Plymouth 3-2. Colin Shamey scored 2 goals, while Ben Fuller scored the other. The lead was preserved with an outstanding save by Will Hall in the dying seconds.

Varsity field hockey picked up their third win of the season in Westport yesterday. After battling the bugs in a scoreless first half they closed out the game with 4 goals. Hannah Rolfe had a hat trick with Mia Smith adding a goal of her own. Grace Flynn was all over the field and helped keep the team afloat. While the oar went to Haylee Devery for her first varsity shut out.

The Wildcat cafe is serving BBQ Pulled pork panini sandwiches and fresh corn on the cob on the hot line today. Tony's French bread pizza is at the pizza station and the grill is offering burgers and a chicken fajita boat. Freshly made wraps, subs and salads are in the grab and go fridges and the featured wrap is Asian chicken with crunchy coleslaw, peapods and chow mein noodles. Assorted breakfast sandwiches and warm donuts will be offered at break.

-