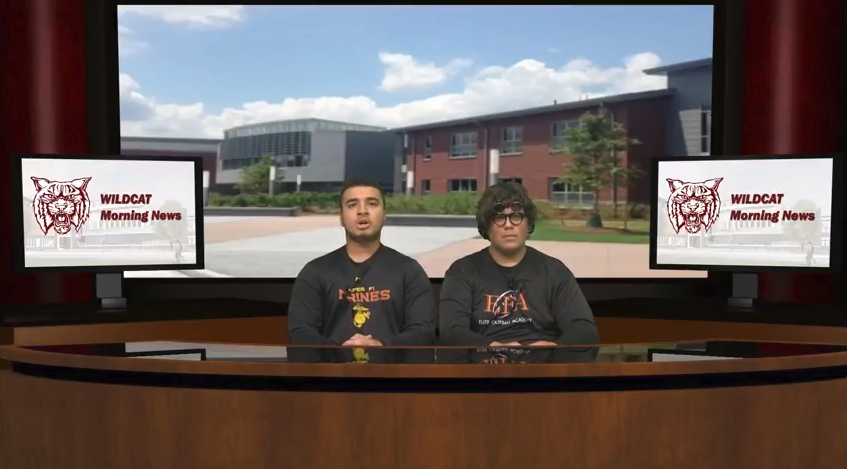 10-11 Morning News
TV Studio
Wednesday, October 11, 2017
November 9 at 6:30 pm under the lights on the football field we will be having a powder puff football tournament. Each grade will have a team of girls and everyone is welcome to play! Boys are needed to cheer! Sign ups and shirt sales will begin next week! It will cost 20 dollars to play and 15 to cheer, which includes a long sleeved shirt! If you have any questions contact Brianna Rawl or Hannah Flynn! So ladies, are you ready to kick it?
Girls Hockey Program - If you are in grades 7-11 and interested in learning more about a girls hockey program in West Bridgewater please sign up in the main office. We are looking to see who would be interested in potentially starting a program in WB.
It's Ukulele Wednesday! Not just for kids! Not just for adults! Not just for girls! See Mrs. Diman for a Power Block pass at break. Ukulele Wednesday
Lifetouch student picture day for grades 7-12 will be today. All students taking the PSAT that day will have their photo taken after they have completed their exam. Seniors that want to use a Lifetouch photo for their Senior photo in the yearbook should report to the auditorium at the end of announcements.
The next Debate Team Practice will be Thursday after school in room 202 - reminder that you should be attending at least one practice a week.
GUIDANCE OFFICE: College Visits list is now available on the school website under guidance department. This document will be constantly updating so please check back on a regular basis. There is a signup sheet in the guidance office and you will also need a pass to give to your teacher.
College visits for the next week are as follows: UMASS Amherst and Sacred Heart will be visiting next Wednesday and Iona College will be here next Friday.
| | | | |
| --- | --- | --- | --- |
| 10/11/17 | | 1:00 pm | UMASS AMHERST |
| | | 9:00 a.m. | SACRED HEART |
| | | | |
| 10/13/17 | | 8:30 a.m. | IONA COLLEGE |
| | | | |
| 10/17/17 | | 11:00 a.m. | URI |
| | | | |
| 10/18/17 | | 8:00 a.m. | UMAINE |
| | | | |
| 10/20/17 | | 9:30 a.m. | JOHNSON & WALES |
| | | 12 Noon | STONEHILL COLLEGE |
| | | 12:30 p.m. | MERRIMACK COLLEGE |
10/2417 10:00 A.M. BRIDGEWATER STATE COLLEGE
PSAT ROOM ASSIGNMENTS
STUDENT WHO HAVE SIGNED UP FOR THE PSAT TEST, PLEASE CHECK THE POSTED ROOM LISTS IN THE CAFETERIA FOR THE ROOM YOU WILL BE REPORTING TO FOR TESTING. THANK YOU.
SOPHOMORES …
Applications are being accepted for the Hugh O'Brian Youth Foundation (HOBY) seminar in the guidance office. Each year West Bridgewater has the opportunity to send one sophomore to this all-expense paid weekend seminar, being held at Bentley University. This leadership program introduces high school sophomores to distinguished leaders from various sectors such as business, education, technology, government, science and the arts. Sophomores are encouraged to apply for this opportunity. Interested students can obtain more information in the guidance office.
Last Year's delegate was Valerie Puliafico.
APPLICATION DEADLINE IS THURSDAY, OCTOBER 26.
COLLEGE FINANCING SEMINAR
This years college financing seminars will be held on Tuesday, October 17, 2017 in the high school auditorium beginning at 6:00 p.m.
This seminar is an opportunity for all parents of juniors and seniors to be informed on the many options available for financing your child's college education.
The Boys JV Soccer Team took a tough loss against Middleboro 5-2. The Wildcats had many chances but could only put away two, thanks to Derek Thorburn and Colin Shamey. Will Hall saved a penalty to keep the opposition at bay but it was not enough as Middleboro took their chances well.
The boys varsity soccer team outscored Middleboro in a hard fought back and forth game by a score of 6 to 5. Four players scored for the Wildcats, including Joe LaRosa and Jason Victor, each with 2 apieace, while Shawn Thorburn and Jefferson Glaude each added one of their own. Justin Baker had a strong game in net, as the Wildcats improved to 9-2-1.
Girls varsity soccer team fell to Middleboro yesterday 5-4. Connor McCarthy scored twice and Victoria Wright and Natalie Frederickson each picked one.
Girls JV soccer team fell to Middleboro but the girls played tough and did not let up until the final whistle. Brooke Joyce scored off of a well placed free kick and Marina Duffy added a second goal. Maddie Morash, Sarah Kearton and Christina Harrington had strong games on the field.
The Wildcat cafe is having a pasta bar on the hotline today with penne pasta and your choice of marinara, meatballs or chicken alfredo along with garlic bread and broccoli. The grill is serving burgers and ham and cheese croissant melts and the pizza station is offering cheese pizza quesadillas. A variety of freshly made salads, wraps, subs and pita pockets are in the grab and go fridges and the featured wrap is Mexican chicken cheddar. Assorted breakfast sandwiches and pretzels are available at break.