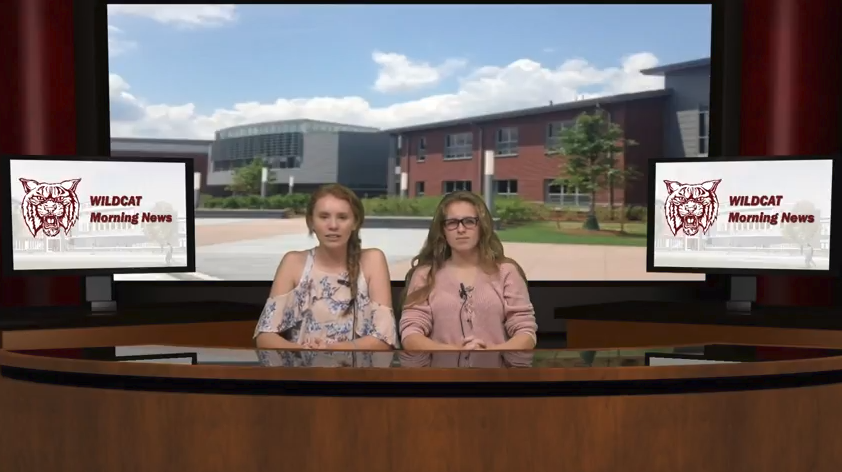 10-20 Morning News
TV Studio
Friday, October 20, 2017
Make sure you take a trip to the party store because next week is spirit week, the days are as follows. VIDEO FOLLOWS
On Tuesday, October 24th, during PB the Senior Class will be taking a group photo for the yearbook. The photo will be taken on the football field. All Seniors should come dressed in their Tourist Tuesday gear for the photo.
Want to be a part of the game of the century and have the time of your life ? Then powder puff is the game for you. Thursday November 9th under the lights at 6:30 be apart of history as West Bridgewater has their first ever powder puff game on the new field! Battle of the grade style 9-12. $20 for girls to play includes a long sleeve shirt and $15 to be a cheerleader including a long sleeve shirt.if you don't want to get in on the fun but want to support your grade then buy a shirt for $15 in your grades color! All sign ups and money are due by TOMORROW! Don't miss out on this great event!
The College Visits list is now available on the school website under guidance department. This document will be constantly updating so please check back on a regular basis. There is a signup sheet in the guidance office and you will also need a pass to give to your teacher.
College visits for the next week are as follows: Johnson and Wales, Stonehill College and Merrimack College will be here on Friday. New visits are:
10/24/17 10:00 A.M. BRIDGEWATER STATE COLLEGE
11/13/17 12:30 P.M. ST MICHAEL'S COLLEGE
SENIORS - COMCAST SCHOLARSHIP APPLICATIONS ARE NOW AVAILABLE IN THE GUIDANCE OFFICE. - DEADLINE IS NOVEMBER 7, 2017.
SOPHOMORES …
Applications are being accepted for the Hugh O'Brian Youth Foundation (HOBY) seminar in the guidance office. Each year West Bridgewater has the opportunity to send one sophomore to this all-expense paid weekend seminar, being held at Bentley University. This leadership program introduces high school sophomores to distinguished leaders from various sectors such as business, education, technology, government, science and the arts. Sophomores are encouraged to apply for this opportunity. Interested students can obtain more information in the guidance office.
Last Year's delegate was Valerie Puliafico.
APPLICATION DEADLINE IS THURSDAY, OCTOBER 26.
Attention Seniors -- The time is now to begin work on your Senior Bios. Follow the guidelines on our Yearbook Classroom page to turn in your Bio and Senior Picture assignment. We will not be accepting late submissions so everything must be completed by the deadline -- Wednesday, November 1st! Please see Mrs. DeLorenzo or Mrs. DeSimone with any questions.
This Friday October 20th Student Council is encouraging all students and staff to WEAR PINK in support of Breast Cancer Awareness.
ATTENTION YEARBOOK STAFF - Mark your calendars for an upcoming meeting on Tuesday 10/24. We will be meeting afterschool in Room 204.
The Homecoming Dance will be held Saturday 10/28 from 7-10pm in the gym. Students grades 9-12 can buy tickets during Powerblock all next week or in Room 204 at any time. Tickets are $10 before and $15 at the door. If you are bringing a guest to the dance they must be signed up in the office by Wednesday 10/25!
A huge thank you to everyone who came out to support the Spanish Honor Society last night at the Tapas and Flamenco Night. The evening was a success, filled with delicious food and an amazing performance by Flamenco Boston. Gracias!
JUNIORS: your $45 dues are now due…...all dues must be paid before you will be allowed to purchase a prom ticket...all dues are being collected by Mrs. Graziano in room 218….if you have a problem let her know.
Attention freshmen and sophomores. Your class dues are due by November 3rd. Freshmen dues is $10 and should be given to Mrs. Longo. Sophomore dues is $15 and should be given to Mr. Winchell. If you need to set up a payment arrangement, please speak to Mrs. DeLorenzo in the front office.
No Video Club on Monday!
Get your bandana on and support the junior class….for $2.00 you can be as cool as them….on sale during lunches...see an officer
The Wildcat cafe is serving a variety of freshly baked original pizza today along with chicken patties and beef and cheese nachos. Assorted grab and go wraps, salad, subs and pita pockets can be found in the grab and go fridges. Breakfast sandwiches, assorted pastries and pancakes are available at break.
Field Hockey lost to Bishop Stang 2-0. In a game that featured 16 seniors our two senior captains stood out with stellar defensive efforts to limit the Stang scoring opportunities. The wildcats were knocking on the door all game long threatening to score. It was a great day for the team to show their appreciation for all that Mia Smith, and Hannah Galbato have done for the team throughout their years playing field hockey. The Wildcats look to qualify for the tournament with a win today.
Congratulations to the golf team for winning the MAC championship with a record of 11 and 1. Congratulations also to Jack Shea,Ben Souza and Tucker Gullbrants for being selected as league all stars. Tucker was also selected as the MAC outstanding player of the year.
Good morning West Bridgewater. My name is Gus, and I can't wait to tell the weather.
It's gonna be EXCITING. Today's gonna be sunny and clear, with temperatures bouncing around from 70 degrees to 44 degrees.
TOMORROW: SUNNY AND CLEAR, EXCEPT FOR THE NIGHT, WHICH'LL HAVE SOME CLOUDS. 76 DEGREES, TO 47 DEGREES.
Sunday: big clouds left and right. 75 - 55 degree weather. Not much really happening this weekend.
We'll be going back to the anchors right about now.