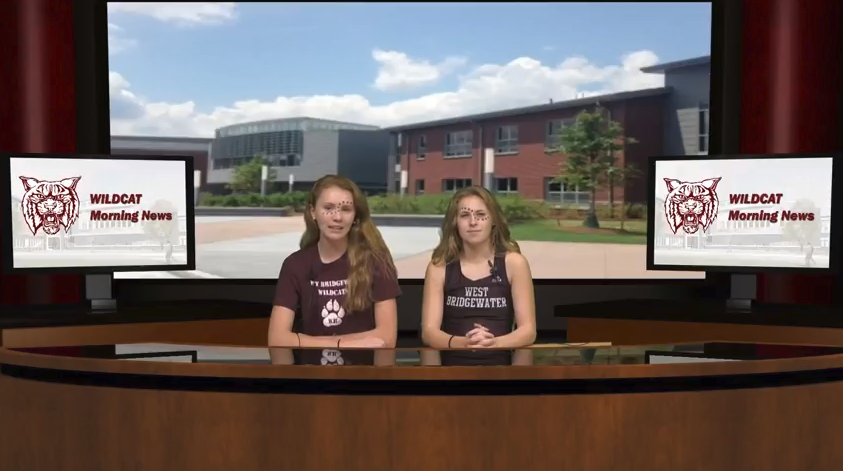 10/27 Morning News
TV Studio
Friday, October 27, 2017
All lost and found items not collected today will be donated to a local shelter.
The Senior class group photo will be taken on Friday before the pep rally. Seniors will be called down at 12:30.
As you all may know, Puerto Rico has been devastated by the hurricanes that have passed through the island. You can help make a difference by donating to Trick or Treat for Unicef. In the High School, the donation boxes will be coming around during powerblock. For Middle School students, you may be able to help by participating in your powerblock challenge for this cause. Every little bit helps!
Girls Ice Hockey - There will be an interest meeting for any girl interested in forming a co-op ice hockey team on Tuesday, October 31st during PB. The meeting will be in the auditorium. This is just to see how many girls are interested and discuss potential planning moving forward
The College Visits list is now available on the school website under guidance department. This document will be constantly updating so please check back on a regular basis. There is a signup sheet in the guidance office and you will also need a pass to give to your teacher.
SENIORS - COMCAST SCHOLARSHIP APPLICATIONS ARE NOW AVAILABLE IN THE GUIDANCE OFFICE. - DEADLINE IS NOVEMBER 7, 2017.
Attention Seniors -- The deadline for your Senior Bios is fast approaching. Please complete the assignment and submit your photos on classroom. We will not be accepting late submissions so everything must be done by Wednesday, November 1st! Please see Mrs. DeLorenzo or Mrs. DeSimone with any questions.
Attention Debate Team Members - Please fill out the Google Form on classroom ASAP. Additionally if you did not receive a packet from Mr. Ennis on Tues or Thursday this week please get one from him today.
The Homecoming Dance will be held tomorrow from 7-10pm in the gym.
Today is the last day to buy Homecoming Dance tickets for $10 - You may purchase them during lunch or from Mrs. DeSimone throughout the day. Tickets will also be sold at the door for $15.
JUNIORS: your $45 dues are now due…...all dues must be paid before you will be allowed to purchase a prom ticket...all dues are being collected by Mrs. Graziano in room 218….if you have a problem let her know.
Attention freshmen and sophomores. Your class dues are due by November 3rd. Freshmen dues is $10 and should be given to Mrs. Longo. Sophomore dues is $15 and should be given to Mr. Winchell. If you need to set up a payment arrangement, please speak to Mrs. DeLorenzo in the front office.
National Honor Society will be selling Halloween Goodie bags during all three lunches this week. Each bag costs $1 and will be delivered last block on Halloween. All proceeds will go the NHS Scholarship, so send some treats to your favorite school ghouls today!
Get your bandana on and support the junior class….for $2.00 you can be as cool as them….on sale during lunches...see an officer
Congratulations to Tucker Gullbrants for qualifying for the MIAA state golf finals. Tucker will play next Monday in Great Barrington, Ma.
Tucker had an outstanding season going undefeated in all of his individual matches. Good Luck Tucker.
The jv volleyball team won their final game of the season with ease! The girls really left everything on the court! Hannah smith was a star on the court and her positive attitude was contagious around the gym. The crowd was scream and cheering for the jv. Special shout out to amie and Halie for playing amazing ! The varsity team also won in a close 4 sets! Congratulations to all the seniors as it was their last game! These seniors lead the team all year and really took the younger girls under their wing! Great work girls congrats to Halie davenport amie Phillips nadirah mohan Brianna Alexander Casey Willis hailey Ryan and Jenna raphel on a great season!
Attention all members of the Spanish Honor Society. Our next monthly meeting will be Wednesday, November 1st at 7:10 in Room 114. If you cannot make the meeting, please see Mrs. Oliveira
Good afternoon WB, we got some great weather for you tonight!
Today will be sunny with a high of 62 and a low of 41. Clouds will roll on in tomorrow, making it partly cloudy with a high of 66 and a low of 55. Finally, on Sunday, we have a high of 66 and a low of 54. Sunday will also have extra heavy rain-- heavier than spicy ranch dressing on a light Caesar salad.
That's about it for the weather. We'll be going back to the anchors right about now.
The Wildcat cafe is serving a variety of freshly made pizza on the hotline and pizza station today. Chicken patties and nachos are at the grill and the grab and go fridges will have a variety of salads, wraps and subs.