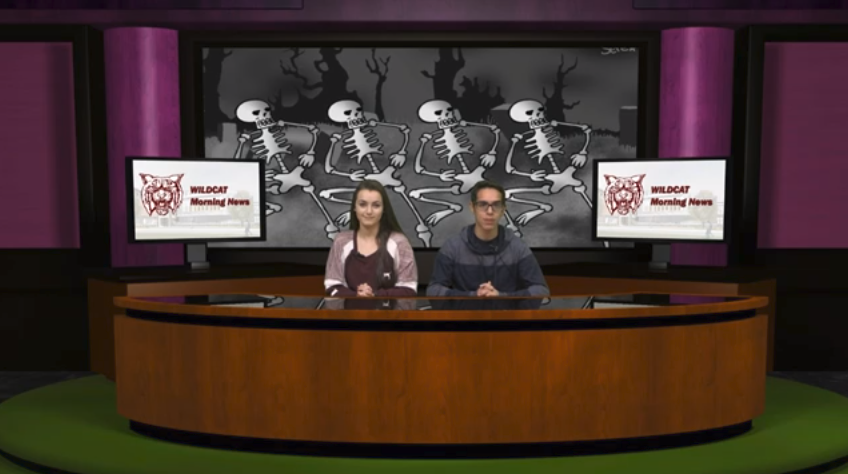 10/31 Morning News
TV Studio
Tuesday, October 31, 2017
Happy Halloween!
Girls Ice Hockey - There will be an interest meeting for any girl interested in forming a co-op ice hockey team on today during PB. The meeting will be in the auditorium. This is just to see how many girls are interested and discuss potential planning moving forward
The College Visits list is now available on the school website under guidance department. This document will be constantly updating so please check back on a regular basis. There is a signup sheet in the guidance office and you will also need a pass to give to your teacher.
Colleges visiting this week are Wednesday, Bay State College, Thursday, Mass College of Liberal Arts and Friday, Fisher College.
SENIORS WITH EARLY ACTION PLANS, PLEASE STOP BY GUIDANCE TO CONFIRM YOUR NOVEMBER 1, 2017 DEADLINE.
SENIORS - COMCAST SCHOLARSHIP APPLICATIONS ARE NOW AVAILABLE IN THE GUIDANCE OFFICE. - DEADLINE IS NOVEMBER 7, 2017.
As you all may know, Puerto Rico has been devastated by the hurricanes that have passed through the island. You can help make a difference by donating to Trick or Treat for Unicef. In the High School, the donation boxes will be coming around during powerblock. For Middle School students, you may be able to help by participating in your powerblock challenge for this cause. Every little bit helps!
Attention Seniors -- The deadline for your Senior Bios is fast approaching. Please complete the assignment and submit your photos on classroom. We will not be accepting late submissions so everything must be done by Wednesday, November 1st! Please see Mrs. DeLorenzo or Mrs. DeSimone with any questions.
Any Student Council member interested in attending the SEMASC field trip should turn in their permission slips and money by the end of the day today 10/31.
There will be a meeting in the gym after the freeze on Wednesday, November 1st for all players coaches and cheerleaders participating in powder puff! It is very important you attend as we will be going over rules and practice dates!
Attention Students participating in Model United Nations. We will be meeting this Thursday Morning. If you are planning to attend our next meet please identify your committee choice and commitment to Mr. Nenopoulos no later than this Thursday!
JUNIORS: your $45 dues are now due…...all dues must be paid before you will be allowed to purchase a prom ticket...all dues are being collected by Mrs. Graziano in room 218….if you have a problem let her know.
Attention freshmen and sophomores. Your class dues are due by this Friday, November 3rd. Freshmen dues are $10 and should be given to Mrs. Longo. Sophomore dues are $15 and should be given to Mr. Winchell. If you need to set up a payment arrangement, please speak to Mrs. DeLorenzo in the front office.
Attention all members of the Spanish Honor Society. Our next monthly meeting will be Wednesday, November 1st at 7:10 in Room 114. If you cannot make the meeting, please see Mrs. Oliveira
The next photo club meeting will be today after school in room 202 - remember to upload a picture for this week's theme on classroom.
Attention members of the Environmental Club - There will be a meeting on Thursday November 2nd after school until 3:00.
The Wildcat cafe is serving a Halloween feast of spooky chicken tenders, screamy mashed potatoes, creepy corn and cackling cake with chocolate frosting on the hot line today. Tony's French Bread pizza, burgers and ham and cheese croissant melts are at the grill and the featured grab and go salad is a vegetarian couscous salad with feta and hummus. New freshly baked donut holes will be offered at snack.
The girls varsity soccer team qualified for the state tournament yesterday with a 9-1 victory over Bishop Connolly yesterday. Seniors Abby Boucher, Italia Ciccolo and Victoria Wright each scored one. Connor McCarthy, Shea O'Neill, Eva Adams, McKenna O'Neill, Steph Brodil and Ellie Smith also contributed to the win