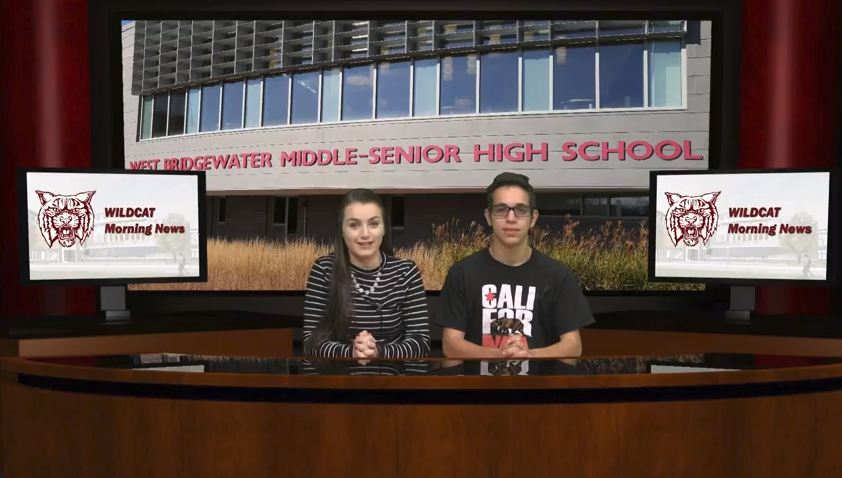 11/3 Morning Announcements
TV Studio
Friday, November 03, 2017
If there are any seniors that would like to have or send in Snapchat pictures in the yearbook, please email or contact Nadirah. Thank You!
Come out and support the football team as they play coyle cassidy on their senior night be sure to wear white and get rowdy student section located in the far left section of the bleachers.
All Adams Scholarship recipients need to see stop in the main office before they leave today.
There is a College Visit signup sheets in the guidance office and you will also need a pass to give to your teacher.
Colleges visiting this week are Thursday, Mass College of Liberal Arts and Friday, Fisher College. Next week visits are Monday, Colby Sawyer College, Thursday, Mass College of Pharmacy. We end this years' college visits with St. Michael's College on Monday, November 13th.
60TH ANNUAL AFL-CIO SCHOLARSHIP -
STUDENTS MAY SIGN UP IN GUIDANCE
EXAM DATE FEBRUARY 7, 2018
ADMINISTERED IN THE GUIDANCE OFFICE
THE LABOR HISTORY SCHOLARSHIP EXAM WILL CONSIST OF 30 MULTIPLE CHOICE QUESTIONS AND ONE ESSAY QUESTION WITH A RESPONSE OF 250-500 WORDS.
A STUDY GUIDE IS AVAILABLE FOR STUDENTS WHO SIGN UP FOR THE EXAM. ANY INTERESTED STUDENTS MUST SIGN UP BY DECEMBER 8, 2017 IN THE GUIDANCE OFFICE.
PLEASE SEE GUIDANCE FOR ANY ADDITIONAL QUESTIONS.
SENIORS - COMCAST SCHOLARSHIP APPLICATIONS ARE NOW AVAILABLE IN THE GUIDANCE OFFICE. - DEADLINE IS NOVEMBER 7, 2017.
Attention Students participating in Model United Nations. If you are planning to attend our next meet please identify your committee choice and commitment to Mr. Nenopoulos no later than TODAY!
JUNIORS: your $45 dues are now due…...all dues must be paid before you will be allowed to purchase a prom ticket...all dues are being collected by Mrs. Graziano in room 218….if you have a problem let her know.
Attention freshmen and sophomores. Your class dues are due by this Friday, November 3rd. Freshmen dues are $10 and should be given to Mrs. Longo. Sophomore dues are $15 and should be given to Mr. Winchell. If you need to set up a payment arrangement, please speak to Mrs. DeLorenzo in the front office.
Yesterday the high school math club placed 3rd out of 7 schools in their first competition of the school year. It was a complete team effort as all 9 competitors contributed points to the team score. Maggie Allen was a high-scoring senior and Valerie Puliafico was a high-scoring junior. Brendan Sheedy, Rebecca Ramos, Caitlin McGrath, Parker McGettrick, Josh Polen, Lauren Mitcheson, and Elyse Puliafico also scored for the Wildcats. The next meeting will take place on Thursday after school.
The next debate team practice will be today after school in room 202. A reminder to complete the survey on Google Classroom and that you should be attending at least one practice a week if you are to be considered on the team from here on out!


On Saturday, November 18th from 10:00-11:30 A.M., there will be a Zumbathon held in the school gym to raise funds for those impacted by Hurricane María in Puerto Rico. $5 for students and $8 for adults. ALL are welcome and NO experience is needed. Just bring energy, a smile and lots of water because you WILL sweat! Tickets will be sold during Powerblock and at the door. Questions? See Señora Fougere.
Good morning West Bridgewater, my name is Gus and we got some big events to discuss today! We'll kick it all off with today. We're in for a very large 70 degree high, and very small 38 degree frosty low. Saturday will be PUNCTUATED by a partly cloudy sky and a half! 54 to 42 degree weather with light winds will gently rustle the fall leaves. OVERCAST SUNDAY. 61 to 57 degrees, and mostly cloudy. We'll be going back to the anchors right about now.
The Wildcat cafe is serving chicken alphabet soup, grilled cheese sandwiches and seasoned fries on the hot line today. Hotdogs and burgers are at the grill and pizza quesadillas are at the pizza station. The featured grab and go salad is a vegetarian couscous medley with feta and hummus. Our new warm freshly baked donut holes are available at break along with assorted breakfast sandwiches.
A key with a Navy lanyard was left in Mr. Winchell's room yesterday. It is now in the office.
A letter from the Environmental Club:
Dear West Bridgewater students,
As you know, we have had an unseasonably warm autumn, and many students are choosing to eat their lunch outside in the courtyard. The Environmental Club has noticed an increase in the amount of trash, including plastic bottles, cans, chips bags, napkins, plastic baggies and food in the courtyard. We all share this space, and littering is detrimental to the environment and beauty of the school grounds. We sincerely ask that you remember to throw your trash in a waste container when you finish your lunch, and to remind others to do so as well. We did a courtyard cleanup on Thursday, November 2, and hope that our fellow students will continue to support our efforts in keeping the courtyard clean.
We thank you in advance,
The West Bridgewater Environmental Club