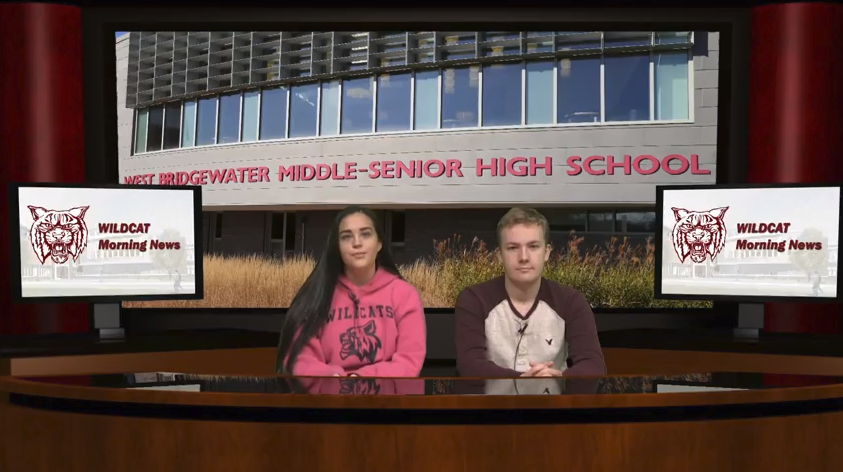 11/15 Morning News
TV Studio
Wednesday, November 15, 2017
Mrs. Page is looking for students who would like to volunteer in the school store or to sell Scholarship Calendars during Parent teacher conferences. Please come to the office to sign up.
If there are any seniors that would like to have Snapchat pictures in the yearbook, please email or contact Nadirah. Thank You!
Winter Sports signups - Today during PB. You will also need to sign up online using Family ID.
Attention high school students - are you interested in journalism? Have you ever wanted to write for a newspaper? We are looking for student volunteers to help create a weekly page in the Brockton Enterprise. How great would it be to see your work published each week. If you are interested or just have questions please see Mr. Bodwell.
This Friday, on November 17th, Faith Winchell and Hailey Ellis are hosting their senior project, a mental health fair, in the gym, from 11 am until 2:30 pm. There will be many mental health professionals attending who will be available to talk to and answer any questions you have. Teachers are welcome to bring down students any time during C and D blocks and students are welcome to stop by after school as well.
In addition to signups today during powerblock, boys and girls winter track will meet Thursday at 2:30 in the cafeteria.
A reminder to seniors, as your college acceptances arrive, please make a copy for the guidance office. Thank you.
Reminder Model UN will be meeting this Thursday morning at 6:45 am in the library.
60TH ANNUAL AFL-CIO SCHOLARSHIP -
STUDENTS MAY SIGN UP IN GUIDANCE
EXAM DATE FEBRUARY 7, 2018
ADMINISTERED IN THE GUIDANCE OFFICE
THE LABOR HISTORY SCHOLARSHIP EXAM WILL CONSIST OF 30 MULTIPLE CHOICE QUESTIONS AND ONE ESSAY QUESTION WITH A RESPONSE OF 250-500 WORDS.
A STUDY GUIDE IS AVAILABLE FOR STUDENTS WHO SIGN UP FOR THE EXAM. ANY INTERESTED STUDENTS MUST SIGN UP BY DECEMBER 8 IN THE GUIDANCE OFFICE.
PLEASE SEE GUIDANCE FOR ANY ADDITIONAL QUESTIONS.
PCC APPLICATIONS ARE NOW AVAILABLE IN THE GUIDANCE OFFICE FOR STUDENTS ENTERING GRADES 8-11 FOR THE 2017-18 SCHOOL YEAR. DEADLINE FOR SUBMISSION TO THE GUIDANCE OFFICE IS DECEMBER 22, 2017.
Starting Monday November 20th through January 12th, the junior class will be selling raffle tickets to win a prom package which includes free prom tickets $100 to NY Lace, $100 to Merian Tuxedos, $100 to Solara for hair & Make up, Flowers from Pillsbury florist, Haircut for men at The BarberShop, Shillac mani & mini pedi from Solara, $100 to extreme Limo. Over $650 in prizes! We also have a few consolation prizes for Farley Florist, Tux Towne and Lovely nails. Tickets are $10 for 1 ticket $20 for 3 tickets. Buy your tickets from any junior class officer or at Parents Conferences Monday & Tuesday night!
Seniors please check your school email account for information regarding the Janice M. Scott Memorial Fund. This scholarship is now available to the Class of 2018 on their website. If you have any questions, please contact the guidance office.
Attention Drama Club-The next rehearsals will be Wednesday, November 15th, and Thursday, November 16th for Cabaret work. Please see the classroom for additional information.
The next high school math club meeting will take place after school this Thursday in Mrs. Graziano's room.
The photo club will meet this WEDNESDAY afterschool in room 202. Please note the change of date for just this week. Reminder to upload a photo on classroom to for this week's theme
The next Student Council meeting will be held after school in Room 204 on Wednesday 11/15.
Yearbook Staff will be meeting after school in Room 204 on Thursday 11/16.
JUNIORS: your $45 dues are now due…...all dues must be paid before you will be allowed to purchase a prom ticket...all dues are being collected by Mrs. Graziano in room 218….if you have a problem let her know.
It is time to help the West Bridgewater Food Pantry! Please bring in nonperishable items for the food pantry to support our neighbors in need. Middle school - this is a power block challenge. The National Honor Society will be coordinating donations at the high school, in addition to Leos Club members. Let's all fill the pantry shelves! Donations will be accepted until Thursday, November 16th.
On Saturday, November 18th from 10:00-11:30 A.M., there will be a Zumbathon held in the school gym to raise funds for those impacted by Hurricane María in Puerto Rico. $5 for students and $8 for adults. ALL are welcome and NO experience is needed. Just bring energy, a smile and lots of water because you WILL sweat! Tickets will be sold during Powerblock and at the door. Questions? See Señora Fougere.
Attention all Winter Sport Athletes: Concussion Baseline testing begins Next week! If you did not play a fall sport you will need to be tested! Please check your emails for instructions.
Attention all students: The amount of clothing in the lost and found is getting out of control. Any items not claimed by the end of parent teacher conferences next week will be donated. Please come claim your belongings!
The Wildcat cafe is serving Chicken patties and chips on the hot line today. Burgers and chicken nuggets with stuffing and mashed potatoes are at the grill and the pizza station has quesadillas pizza with salsa and sour cream. The featured wrap is autumn chicken with cheddar, craisins and apples. Assorted breakfast sandwiches and chocolate muffins are available at break.
Environmental club will be meeting on Thursday after school. Feel free to bring snacks for our club meeting. We will be working on the textile recycling program.