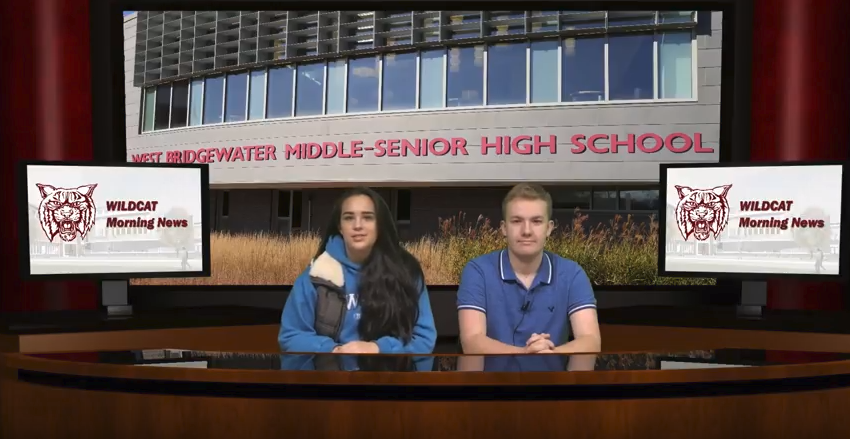 11/21 Morning News
TV Studio
Tuesday, November 21, 2017
JOB OPPORTUNITY
There is a job opportunity available for student driver who can shuttle a WB student home after school. Please contact the guidance office for information regarding this opportunity.
Today is Tuesday which means Ski Club money is now due. Bring in your money and packet by 11:00 or you'll be bored without a board and your life will go down hill from here.
Attention all Leos! Pie and cookie dough order forms and payments are due to McAlduff and Finley by Wednesday.
If not turned in, your orders will not be filled.
Students looking to possibly carpool with another Bridgewater family who lives on the East Bridgewater side of town please see contact the office for more information.
If there are any seniors that would like to have Snapchat pictures in the yearbook, please email or contact Nadirah. Thank You!
Attention high school students - are you interested in journalism? Have you ever wanted to write for a newspaper? We are looking for student volunteers to help create a weekly page in the Brockton Enterprise. How great would it be to see your work published each week. If you are interested or just have questions please see Mr. Bodwell.
We are looking to see if there is interest in starting a boys lacrosse program. If you are in grades 8-12 and interested in the program please sign up in the main office. There will be a meeting of all interested in the lacrosse program after the Thanksgiving break.
Reminder Model UN students who are attending the next meet your slips and money are now due.
A reminder to seniors, as your college acceptances arrive, please make a copy for the guidance office. Thank you.
Attention Seniors: Now available in Guidance the Son's Of Italy scholarship. This is a early deadline of February 1, 2018. Please stop by for an application if interested.
60TH ANNUAL AFL-CIO SCHOLARSHIP -
STUDENTS MAY SIGN UP IN GUIDANCE
EXAM DATE FEBRUARY 7, 2018
ADMINISTERED IN THE GUIDANCE OFFICE
The scholarship deadline is December 15.
THE LABOR HISTORY SCHOLARSHIP EXAM WILL CONSIST OF 30 MULTIPLE CHOICE QUESTIONS AND ONE ESSAY QUESTION WITH A RESPONSE OF 250-500 WORDS.
A STUDY GUIDE IS AVAILABLE FOR STUDENTS WHO SIGN UP FOR THE EXAM. ANY INTERESTED STUDENTS MUST SIGN UP BY DECEMBER 8 IN THE GUIDANCE OFFICE.
PLEASE SEE GUIDANCE FOR ANY ADDITIONAL QUESTIONS.
PCC APPLICATIONS ARE NOW AVAILABLE IN THE GUIDANCE OFFICE FOR STUDENTS ENTERING GRADES 8-11 FOR THE 2017-18 SCHOOL YEAR. DEADLINE FOR SUBMISSION TO THE GUIDANCE OFFICE IS DECEMBER 22, 2017.
Starting Monday November 20th through January 12th, the junior class will be selling raffle tickets to win a prom package which includes free prom tickets $100 to NY Lace, $100 to Merian Tuxedos, $100 to Solara for hair & Make up, Flowers from Pillsbury florist, Haircut for men at The BarberShop, Shillac mani & mini pedi from Solara, $100 to extreme Limo. Over $650 in prizes! We also have a few consolation prizes for Farley Florist, Tux Towne and Lovely nails. Tickets are $10 for 1 ticket $20 for 3 tickets. Buy your tickets from any junior class officer or at Parents Conferences Monday & Tuesday night!
The Photo Club has been working hard all fall taking and editing photos and they want you to see their work! Check out the display case across from the Wildcat Den to see some of the Photography Club's newest prints on display!
Student Council is doing its annual Giving Tree again this year! Once you have the gift, please return it to the collection box, unwrapped and with the stocking that you took attached to it. Gifts are due by Dec. 6th.
JUNIORS: your $45 dues are now due…...all dues must be paid before you will be allowed to purchase a prom ticket...all dues are being collected by Mrs. Graziano in room 218….if you have a problem let her know.
Attention all Winter Sport Athletes: Concussion Baseline testing begins Next week! If you did not play a fall sport you will need to be tested! Please check your emails for instructions.
Attention all students: The amount of clothing in the lost and found is getting out of control. Any items not claimed by the end of parent teacher conferences next week will be donated. Please come claim your belongings!
A note from Señora Fougere: A sincere "Muchísimas gracias" to all who supported the "Zumba 4 PR" Fundraiser this past Saturday. We will continue to accept donations for Puerto Rico through next week. Donations will be collected during Powerblock or they can be given to your language teacher. 100% of the profits will directly benefit those in need.
Attention all girls soccer players: The soccer banquet will be held on Tuesday November 28th @5pm in the cafeteria. Please give Coach DeCastro or Coach Daley $5 by this Tuesday if you plan on attending.
The Science Department is proud to announce the top 8 Science Fair Finalists in Grade 7. These students worked incredibly hard and beat out some tough competition to earn their spot as one of the "Exceptional 8"
The Finalists, in no particular order:
Avery Hohengasser - Bacteria
Curt Heath - Does the Temperature of a Baseball Affect How Far it Will Go?
Dylan Yee - Worm Power!
Isabella D'Agostino - Reactions With Vinegar
Lexi Levine - Perfect Temp.
Ryan McGrath - Is It Easier to Score Using a Bank Shot or Not?
Shelby L'aime - Making Music With Bottles
Will DeLuca - Elephant Toothpaste
Congratulations to the winners and all of the participants!
The Wildcat cafe will be serving warm donuts and assorted breakfast sandwiches at break today.