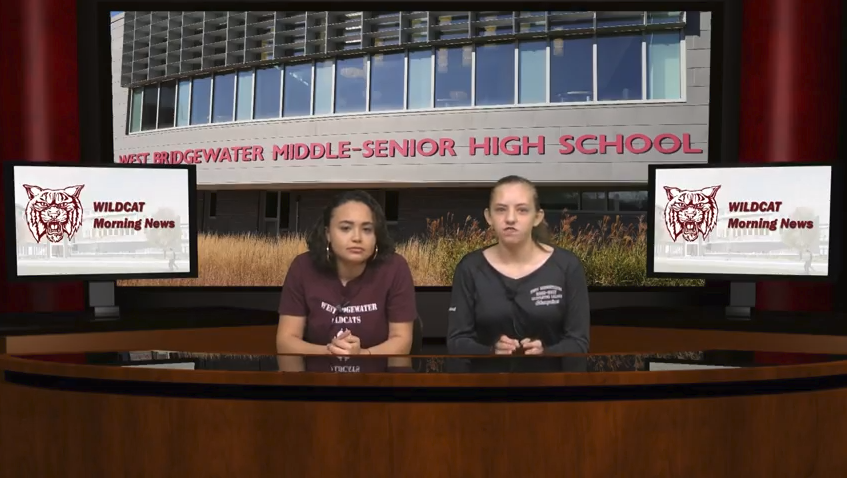 12/1 Morning News
TV Studio
Friday, December 01, 2017
Happy December first everyone! We gobbled up the days of November pretty quickly but it was a long, hard-fought month for the men who grew their facial hair in the name of prostate cancer awareness. Without further delay, let's go to the final standing for No Shave November 2017!
Finishing in 4th...Mr. Despier pulled through raising over a hundred dollars this year. Thank you Mr. Despier! Coming in third...Senior Mike O'Toole had a great last week showing raising over a hundred and fifty dollars. Well done Mike! What he doesn't know is that he only missed second place by a mere ten dollars as our second place finisher, 8th grader Eoin Millerick had a last minute donation to finish with one hundred sixty three dollars. Very impressive Eoin! That brings us to this year's new champion...Mr. Campagna is the victor destroying his competition while raising three hundred and sixty five dollars! Mr. Campagna, you are the man!
A big thank you to all of the students, staff, and families that donated to this cause and a big, big thank you to the four participants in this years fundraiser. Together, we raised almost eight hundred dollars which will be donated to the Massachusetts Prostate Cancer Coalition.
You don't want to miss this one! Next Wednesday evening, December 6th we are very excited to have a professional African Dance Troupe coming who will perform traditional African storytelling, a drumming and dance demonstration with audience participation. A sampling of a variety of African foods will be available prior to the performance. Doors open at 6 pm with the performance beginning at 6:30. It will be an amazing experience! Come and bring your family and friends. Admission to defray the cost is only $5 per person with a $15 family cap. More info? See members of the Global Citizen Program.
Job Opportunity-
Scapeway Gardeners is looking for students to shovel during the snow season. All jobs will be local but, you must have your own vehicle. Interested students please check with Guidance for more information.
Open your holiday season with a HOLIDAY CONCERT on Friday, December 1st in the WBMSHS auditorium featuring the a capella group Tonal Recall with opening acts performed by members of the Tri-M Music Honors Society. Doors open at 6:30 with performances beginning at 6:45. Suggested donation of $5 per person or $15 per family (children under 10 yrs old are free). This event is being hosted by the WBMSHS Music Boosters and the Tri-M Music Honors Society, and partially funded through a grant from the Massachusetts Cultural Council. Pentatonics Anyone?
Is landscape design something you are interested in? Do you have ideas on how to add some color and character to our courtyard area? Well if you do have some ideas we need to hear them. We are looking for ways to enhance the courtyard so feel free to email your ideas to Mr. Bodwell
A message from the WB Town Library
Looking for community service hours?
Have fun while getting valuable community service hours by volunteering to help at the annual West Bridgewater Public Library Polar Express Party on Saturday, Dec. 9th between 10 - 2 p.m. sponsored by the Friends of the Library.We need two out-going young people to wear the Frosty the Snowman costume and walk around for children to take selfies with.We also need helpers to run children's animated movies. Interested? Contact Library Director, Ellen Snoeyenbos, at 508-894-1255.
There will be a meeting of all interested in the boys' lacrosse program on Tuesday, December 5th, during PB. Sign up in the Main Office.
Attention all Leos! There will be a mandatory meeting for induction rehearsal tomorrow, Friday, and next Tuesday, during power block in the auditorium after the five minute freeze. Also, go on the Leos classroom site to sign-up for dinner and induction attendance.
As part of our upcoming NEASC accreditation process all students will need to complete a survey. Students will be doing it on Monday, December 4th during PB. Seniors will not have privs on this day. Sorry for the inconvenience but we want to give you as much notice as possible. Thank you
A reminder to seniors, as your college acceptances arrive, please make a copy for the guidance office. Thank you.
Attention Seniors: Now available in Guidance the Son's Of Italy scholarship. This has an early deadline of February 1, 2018. Please stop by for an application if interested. The Stephen Phillips scholarship is available in guidance with a April 3, 2018 deadline.
60TH ANNUAL AFL-CIO SCHOLARSHIP -
STUDENTS MAY SIGN UP IN GUIDANCE
EXAM DATE FEBRUARY 7, 2018
ADMINISTERED IN THE GUIDANCE OFFICE
The scholarship deadline is December 15.
Attention any students and staff that would like to donate blood. There will be a Red Cross blood drive being held at the school on Friday, December 8th. Please visit redcross.org and use the code wbmshs to sign up or see Amanda Wells or Abby Bedard. Also, if any student is in need of service hours we need help supervising the snack table on that day.
THE LABOR HISTORY SCHOLARSHIP EXAM WILL CONSIST OF 30 MULTIPLE CHOICE QUESTIONS AND ONE ESSAY QUESTION WITH A RESPONSE OF 250-500 WORDS. A STUDY GUIDE IS AVAILABLE FOR STUDENTS WHO SIGN UP FOR THE EXAM. ANY INTERESTED STUDENTS MUST SIGN UP BY DECEMBER 8 IN THE GUIDANCE OFFICE.
PLEASE SEE GUIDANCE FOR ANY ADDITIONAL QUESTIONS.
PCC APPLICATIONS ARE NOW AVAILABLE IN THE GUIDANCE OFFICE FOR STUDENTS ENTERING GRADES 8-11 FOR THE 2018-19 SCHOOL YEAR. DEADLINE FOR SUBMISSION TO THE GUIDANCE OFFICE IS DECEMBER 22.
ATTENTION STUDENTS: THERE WILL BE A PCC PRESENTATION ON DECEMBER 11TH DURING POWERBLOCK FOR STUDENTS INTERESTED IN HEARING ABOUT THIS PROGRAM. PLEASE STOP BY GUIDANCE TO SIGN UP FOR THIS ADVANCED STUDIES PROGRAM.
JUNIORS AND SENIORS - Dual Enrollment applications are now available in the Guidance office for Bridgewater State and Massasoit College Spring Semesters. Please stop by Guidance if interested in enrolling. Please note that Bridgewater State deadline is DECEMBER 4TH.
The junior class will be selling raffle tickets through January 12th to win a prom package which includes free prom tickets $100 to NY Lace, $100 to Merian Tuxedos, $100 to Solara for hair & Make up, Flowers from Pillsbury florist, Haircut for men at The BarberShop, Shillac mani & mini pedi from Solara, $100 to extreme Limo. Over $650 in prizes! We also have a few consolation prizes for Farley Florist, Tux Towne and Lovely nails. Tickets are $10 for 1 ticket $20 for 3 tickets. Buy your tickets from any junior class officer.
The Photo Club has been working hard all fall taking and editing photos and they want you to see their work! Check out the display case across from the Wildcat Den to see some of the Photography Club's newest prints on display!
Reminder about the Giving Tree - Once you have the gift, please return it to the collection box in the lobby, unwrapped, and with the stocking that you took attached to it. Gifts are due by Dec. 6th!
JUNIORS: your $45 dues are now due…...all dues must be paid before you will be allowed to purchase a prom ticket...all dues are being collected by Mrs. Graziano in room 218….if you have a problem let her know.
There will be a middle school dance on December 8th from 7 to 9. Tickets will be sold for 10 dollars in powerblock and 12 dollars at the door! Hope to see you there!
The Spanish Honor Society will have its next monthly meeting on Wednesday, December 6th at 7:10 am in Room 114. All members must attend. Please be prepared to sign up for a time slot for canning on December 9th and candy cane sales. If you cannot make the meeting, please see Señora Oliveira