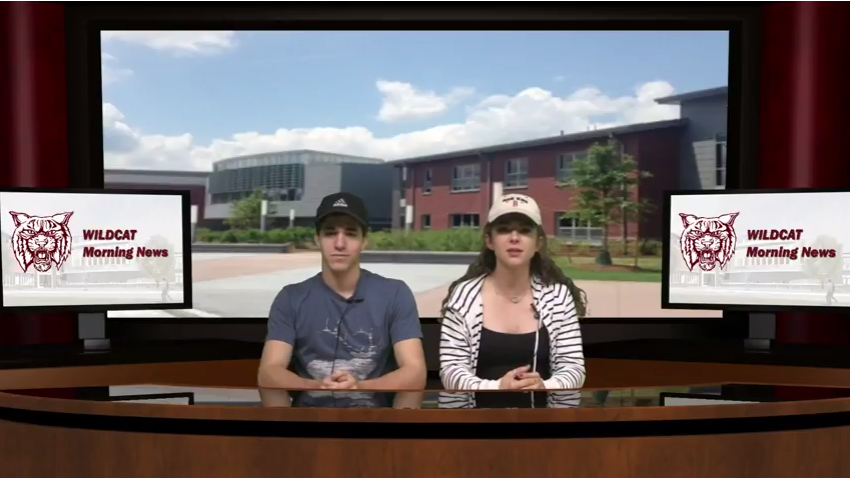 9/22 Morning News
TV Studio
Friday, September 22, 2017
Information from the Town Library
"Ever thought it might be fun to have a relaxed, thoughtful discussion of the Big Questions of Life? Drop in on Tuesday afternoons after school in the Fall in the West Bridgewater Public Library Gallery. Join others interested in deep conversations. In the coming weeks we plan to discuss: "Is education a right or a privilege?" "What is the responsibility of the individual to society and vice versa?" "Is the Truth knowable?"
Also from the Town Library - "On Fridays after school in the Fall, an Open Mic for spoken word and poetry will be held for local teens from West Bridgewater and surrounding towns. This Poetry Slam will feature original poems and spoken word pieces and/or works of your favorite poets and authors. Share your work in a relaxed and supportive setting.
Lifetouch student picture day for grades 7-12 will be on Wednesday, October 11th. All students taking the PSAT that day will have their photo taken after they have completed their exam.
Seniors that want to use a Lifetouch photo for their Senior photo in the yearbook should come to school on Wednesday, October 11th, ready to be photographed.
Yearbook Staff - The sign up sheet for page assignments can be found in the office. Please sign up for your first 3 choices by Thursday September 28th.
Summer Strength and Conditioning T-Shirts are in!!! They can be picked up after School in Laura's office.
Do you enjoy going toe to toe about important topics that impact today's world? Do you want better research and public speaking skills? Do you have a lot of opinions about a lot of things? Than Debate might be for you!

This year's topic is : "Resolved: The United States federal government should substantially increase its funding and/or regulation of elementary and/or secondary education in the United States."



The Music Department is going to be very busy during Power Blocks! There is a new Ukelele group that will be meeting every week, during Wednesday Power Block! If you need a pass, see Mrs. Diman in the morning. Also, for any interested singers, a small vocal ensemble will be meeting weekly on Thursday during Power Block. Again, see Mrs. Diman if you need a pass.


The first rehearsals for the Wildcat Color Guard start on Monday and Wednesday, right after school. Stop by after school to see the flags twirl and the rifles get thrown!
Any Freshmen running for class office need to get their speeches to Mrs. Longo by Monday, September 25th.
VIDEO: "Ukulele Wednesdays are happening in the Band Room! Beginners and advanced-all are welcome!"
VOLUNTEERS - COMMUNITY SERVICE HOURS
The BBA needs volunteers early on Saturday morning, September 30, to help with vendor unloading and set up; throughout the day to assist with children's activities, petting zoo, drink sales, etc.; and later in the afternoon to help vendors pack up and for general cleanup of the site. Home Depot has donated hand trucks and dolly carts to move the heavy items, so while there is some physical labor involved. While we will take any volunteer assistance, we would prefer to book students in 2-3 hour blocks of time, beginning Saturday morning at 7:00 a.m. and ending at 6:00 p.m. Anyone interested can e-mail Joe at jenriquez@darroweverett.com
GUIDANCE OFFICE: College Visits list is now available on the school website under guidance department. This document will be constantly updating so please check back on a regular basis. There is a signup sheet in the guidance office and you will also need a pass to give to your teacher. Next week visits are follows:
9/25 University of New Haven, Western New England University, St. Josephs colle, Roger Williams University and added today COASTAL CAROLINA.
9/26 Wheaton College, Lasell College, Bentley College
9/27 University of Connecticut, University of New England
SOPHOMORES & JUNIORS, Mark you calendars, the PSAT TEST will be administered this October 11 here at school. PSAT PAYMENT IN THE AMOUNT OF $16.00 is due in the Guidance Office by Friday, October 6, 2017. Cash or checks. Please make checks out to WBMSHS. Please contact guidance with any questions.
SOPHOMORES …
Applications are being accepted for the Hugh O'Brian Youth Foundation (HOBY) seminar in the guidance office. Each year West Bridgewater has the opportunity to send one sophomore to this all-expense paid weekend seminar, being held at Bentley University. This leadership program introduces high school sophomores to distinguished leaders from various sectors such as business, education, technology, government, science and the arts. Sophomores are encouraged to apply for this opportunity. Interested students can obtain more information in the guidance office.
Last Year's delegate was Valerie Puliafico.
APPLICATION DEADLINE IS THURSDAY, OCTOBER 26.
COLLEGE FINANCING SEMINAR
This years college financing seminars will be held on Tuesday, October 17, 2017 in the high school auditorium beginning at 6:00 p.m.
This seminar is an opportunity for all parents of juniors and seniors to be informed on the many options available for financing your child's college education.
(9/18) Hat day today! Students can pay $2.00 in powerblock and wear a hat for the day on Friday. All money raised will be donated to the Hurricane Relief fund.
A meeting for ALL members of the Spanish Honor Society will be next Wednesday, September 27th.
The boys varsity soccer team came from behind to beat Sacred Heart in a hard fought match by a score of 2 to1. Noah Al-Khalidy scored from a header from a great cross from Jason Victor for the first goal of the game. Shawn Thorburn scored the winning goal for the Wildcats. Their record is now 3-1 after the victory
The JV boys soccer team beat Sacred Heart 10-1. Goals came from both the forwards and the defenders. Lockdown defense kept Sacred Heart in check throughout the game.
The Varsity Field Hockey Team lost to Stang 2-0. Hannah Galbato helped to quiet the offensive attack and earned the oar. While Rachel Smith's relentless attack on offense landed her the life jacket. The team will play a home game today at 3:30.
The Wildcat cafe is serving Original pizza with a variety of toppings today along with nachos and chicken patties on the grill. Fresh salads, subs, wraps and pita pockets are available in the grab and go fridges. Assorted breakfast sandwiches including a new ham cheese and egg croissant will be offered at break.
The morning crew is looking for a sportscaster to announce the game results during morning news. Anyone interested should e-mail Mr. Cray or stop by the studio. This opportunity is open to all grades
HELLO WEST BRIDGEWATER. My name is Gus, and I can't wait to tell the weather.
We'll kick it off with today's weather. We're in for nonstop steady showers of rain. Hold onto your hats, because winds are gonna BLAST by at 15 to 25 miles an hour. The temperature will have a high of 62 degrees, and a low of 59 degrees.
SATURDAY. No rain, just clouds as far as the eye can see. Saturday night has a massive 97% humidity. Perfect weather to sit down, relax, and microwave up some scrumptious Chef Boyardee Beefaroni.
Sunday promises to be partly cloudy with low winds. With a high temperature of 83 degrees, it's gonna be SPLENDIFEROUS outside. Don't miss it.
That's gonna wrap up the first Weekend Weather with Gus. We'll be going back to the anchors right abouut now.