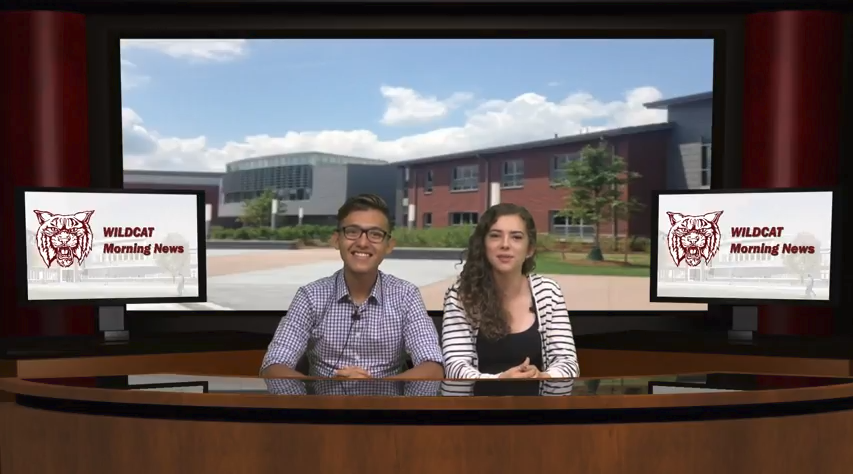 9/29 Morning News
TV Studio
Friday, September 29 2017
Babysitting Opportunity: A former student has reached out to Mrs. Page looking for a babysitter for her son on some weekends. If you are interested please see Mrs. Page for details. Student must have their license.
Are you looking for a very delicious job? How about joining the team at Throwback Burgers, a brand new burger place opening up in October right in the center of town. We're right between Dunkin and Envy Tailors in the plaza in the center of town, so stop by for an application or call Amantino at 781-864-7639.
Are you a writer? Do you love scary stories? Consider entering the "Spine Chillers" writing contest! Can you "wow" the judges in only 100 words? You may win an iPad, as well as some serious fame! Entries are due no later than Friday October 20th. See Mrs. Thomas in the Learning Commons for more details.
"Ever thought it might be fun to have a relaxed, thoughtful discussion of the Big Questions of Life? Drop in on Tuesday afternoons after school in the Fall in the West Bridgewater Public Library Gallery. Join others interested in deep conversations. In the coming weeks we plan to discuss: "Is education a right or a privilege?" "What is the responsibility of the individual to society and vice versa?" "Is the Truth knowable?"
Also from the Town Library - "On Fridays after school in the Fall, an Open Mic for spoken word and poetry will be held for local teens from West Bridgewater and surrounding towns. This Poetry Slam will feature original poems and spoken word pieces and/or works of your favorite poets and authors. Share your work in a relaxed and supportive setting.
Do you like free food? Do you think the environment is cool? Do animals excite you? The environmental club would like to invite you to join us! We will be having a meeting on Tuesday, October 3rd until 3pm in Mrs. Warnock's room: room 110. Snacks will be provided. We will be going for a scenic walk to West Bridgewater's very own Town River. See you there!
Lifetouch student picture day for grades 7-12 will be on Wednesday, October 11th. All students taking the PSAT that day will have their photo taken after they have completed their exam. Seniors that want to use a Lifetouch photo for their Senior photo in the yearbook should come to school on Wednesday, October 11th, ready to be photographed.
The Games Club is all about having fun. We will spend time playing video games, Card games and board games like Street Fighter, Dungeons & Dragons, Magic the Gathering, European style games, and many other fun games. We will currently be meeting on Mondays after schools in room 212 until about 3:30. We look forward to seeing you there!
There will be a brief meeting for all high school "mathletes" interested in joining the High School Math Club in the Orange Commons on Friday during Power Block after the 5 minute freeze.
There will be a meeting today during power block to discuss the possibility of organizing an e-sports team. Would you be interested in playing in a video game tournament? Or joining an esports team and challenging teams from other schools? How about setting up a Twitch channel? We are thinking about getting this started, so if you think you might be interested, please come to the computer lab during power block today. (Friday)
Seniors- Reminder, permission slips and $25 payment for the Adventure Park field trip are due by this Friday (9/29). Disney forms and initial payment is due by Monday of next week (10/2). Please see Ms. Silva or Mr. McMurray with any questions.
GUIDANCE OFFICE: College Visits list is now available on the school website under guidance department. This document will be constantly updating so please check back on a regular basis. There is a signup sheet in the guidance office and you will also need a pass to give to your teacher.
COLLEGE VISITS FOR THE NEXT TWO WEEKS ARE AS FOLLOWS:
| | |
| --- | --- |
| 10/5/17 | UNIVERSITY OF CONNECTICUT |
| | |
| 10/6/17 | CASTELTON STATE VERMONT |
| | ENDICOTT COLLEGE |
| | |
| 10/11/17 | UMASS AMHERST |
| | SACRED HEART |
| | |
| 10/13/17 | IONA COLLEGE |
SOPHOMORES & JUNIORS, Mark you calendars, the PSAT TEST will be administered this October 11 here at school. PSAT PAYMENT IN THE AMOUNT OF $16.00 is due in the Guidance Office by Friday, October 6, 2017. Cash or checks. Please make checks out to WBMSHS. Please contact guidance with any questions.

SOPHOMORES …

Applications are being accepted for the Hugh O'Brian Youth Foundation (HOBY) seminar in the guidance office. Each year West Bridgewater has the opportunity to send one sophomore to this all-expense paid weekend seminar, being held at Bentley University. This leadership program introduces high school sophomores to distinguished leaders from various sectors such as business, education, technology, government, science and the arts. Sophomores are encouraged to apply for this opportunity. Interested students can obtain more information in the guidance office.

Last Year's delegate was Valerie Puliafico.

APPLICATION DEADLINE IS THURSDAY, OCTOBER 26.

COLLEGE FINANCING SEMINAR

This years college financing seminars will be held on Tuesday, October 17, 2017 in the high school auditorium beginning at 6:00 p.m.

This seminar is an opportunity for all parents of juniors and seniors to be informed on the many options available for financing your child's college education.

Attention students looking for community service hours. Mrs. DeCastro is looking for students to work the sidelines at the girls soccer games. Two hours of service will be awarded each game. Please see Mrs. DeCastro if you are interested.

Congratulations to the new Freshman Class Officers!

President - Allison Adams

Vice President - Marissa Olivier

Treasurer - Charlie Gee

Secretary - Anna Trott

"Please come out and support the Wildcats on their senior night as they take on the Cougars of Bishop Connolly. Kickoff is at 6:30 and be sure to wear ur white to support the team. Be loud and get crazy!"

The JV Boys Soccer Team tied Blue Hills 9-9 in an all out goal fest. Derek Thorburn scored a whopping 5 goals, Thomas Sheedy scored 2 goals, while Colin Shamey and Ben Fuller added to the scoring as well.

JV girls beat Holbrook 3-2 yesterday. Nora Brodil started off the scoring early but Holbrook answered. Maddie Morash then scored the go-ahead goal to put the Wildcats up again. Later in the second half after Holbrooks second goal, Morash once again gave the wildcats the lead at 3-2. Emma Lavoie played well and had an assist. Ellie Smith controlled the ball well from the midfield and Halle Hackenson was solid on defense.

The boys varsity soccer team beat Blue Hills Regional High School yesterday 11 to 4. Kevin Lawler and Shawn Thorburn both had hat tricks for the Wildcats, whose record improves to 5-1-1.

The Wildcat Cafe is serving freshly baked Original Pizza today on the hot line and pizza station. Nachos and chicken patties are at the grill and plenty of of fresh salads, wraps, subs and pita pockets are available in the grab and go fridges. Assorted breakfast sandwiches and warm soft pretzels will be offered at break.

GOOD MORNING WEST BRIDGEWATER. My name is Gus, and I've got some scrumptious weather, ready to serve on a hot sauce pan!

Let's get right into it. Today we'll be experiencing temperate 68 degree weather with relatively low humidity. BUT WAIT.

There's more! Tonight we're going to experience a 50 percent chance of light rains with high humidity and low winds.

SATURDAY. The humidity will rise from 78 percent to a massive 91 percent from the morning to the night. On top of that, a 60 percent chance of rain will blast by at a supersonic speed of 3 miles an hour like a peppery garnish on some tasty Spaghettios, so watch out!

Finally, Sunday will be pretty neat. Clear skies and no rain. I personally can't wait for this weekend. We'll be going back to the anchors right about now.

-