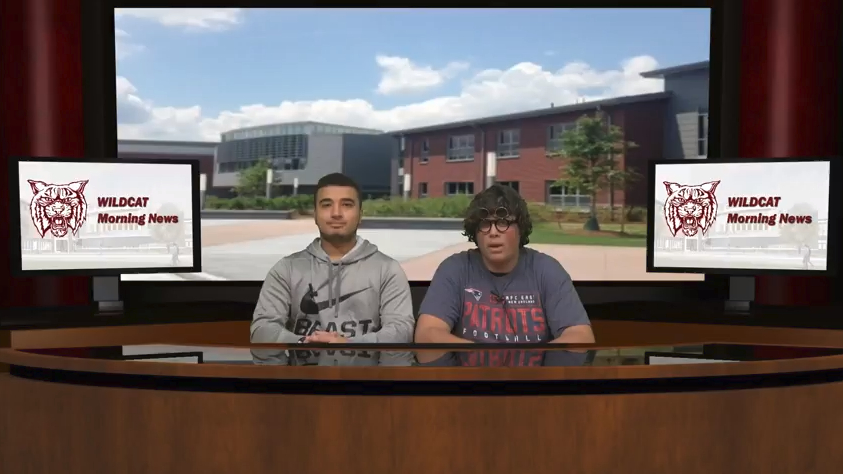 10/12 Morning News
TV Studio
Thursday, October 12 2017
November 9 at 6:30 pm under the lights on the football field we will be having a powder puff football tournament. Each grade will have a team of girls and everyone is welcome to play! Boys are needed to cheer! Sign ups and shirt sales will begin next week! It will cost 20 dollars to play and 15 to cheer, which includes a long sleeved shirt! If you have any questions contact Brianna Rawl or Hannah Flynn! So ladies, are you ready to kick it?
Girls Hockey Program - If you are in grades 7-11 and interested in learning more about a girls hockey program in West Bridgewater please sign up in the main office. We are looking to see who would be interested in potentially starting a program in WB.
Attention Wildcat Leaders - A reminder that next week you will be meeting with your 7th grade student. Please make sure you go to the powerblock after the 5 minute freeze and stay with your student for the entire time. Here are the dates for each powerblock
Monday - Mrs. Aiello-Jones
Tuesday - Ms. Martin
Wednesday - Mrs. Theriault
Thursday - Mrs. Parenteau
Friday - Mr. Hyde
GUIDANCE OFFICE: College Visits list is now available on the school website under guidance department. This document will be constantly updating so please check back on a regular basis. There is a signup sheet in the guidance office and you will also need a pass to give to your teacher.
College visits for the next week are as follows: UMASS Amherst and Sacred Heart will be visiting next Wednesday and Iona College will be here next Friday.
| | | | |
| --- | --- | --- | --- |
| 10/11/17 | | 1:00 pm | UMASS AMHERST |
| | | 9:00 a.m. | SACRED HEART |
| | | | |
| 10/13/17 | | 8:30 a.m. | IONA COLLEGE |
| | | | |
| 10/17/17 | | 11:00 a.m. | URI |
| | | | |
| 10/18/17 | | 8:00 a.m. | UMAINE |
| | | | |
| 10/20/17 | | 9:30 a.m. | JOHNSON & WALES |
| | | 12 Noon | STONEHILL COLLEGE |
| | | 12:30 p.m. | MERRIMACK COLLEGE |
10/2417 10:00 A.M. BRIDGEWATER STATE COLLEGE

SOPHOMORES …

Applications are being accepted for the Hugh O'Brian Youth Foundation (HOBY) seminar in the guidance office. Each year West Bridgewater has the opportunity to send one sophomore to this all-expense paid weekend seminar, being held at Bentley University. This leadership program introduces high school sophomores to distinguished leaders from various sectors such as business, education, technology, government, science and the arts. Sophomores are encouraged to apply for this opportunity. Interested students can obtain more information in the guidance office.

Last Year's delegate was Valerie Puliafico.

APPLICATION DEADLINE IS THURSDAY, OCTOBER 26.

COLLEGE FINANCING SEMINAR

This years college financing seminars will be held on Tuesday, October 17, 2017 in the high school auditorium beginning at 6:00 p.m.

This seminar is an opportunity for all parents of juniors and seniors to be informed on the many options available for financing your child's college education.

Seniors - There will be a senior class meeting on Tuesday 10/17 during Power Block. Please plan accordingly as students will not have privileges that day.

Attention Seniors -- The time is now to begin work on your Senior Bios. Follow the guidelines on our Yearbook Classroom page to turn in your Bio and Senior Picture assignment. We will not be accepting late submissions so everything must be completed by the deadline -- Wednesday, November 1st! Please see Mrs. DeLorenzo or Mrs. DeSimone with any questions.

The Spanish Honor Society is hosting its second Tapas and Flamenco night at the West Bridgewater Middle Senior High School on Wednesday, October 19th from 6-8 pm. Come and join us for a night of appetizers and an interactive performance by Flamenco Boston. Tapas will be served beginning at 6pm and the flamenco show will begin at 7pm. All are welcome to join! Tickets are $10 for students and $15 for adults with a family cap of $30. Come and enjoy a cultural evening filled with great food and lively music!




-