EDIT MAIN
Upcoming Events: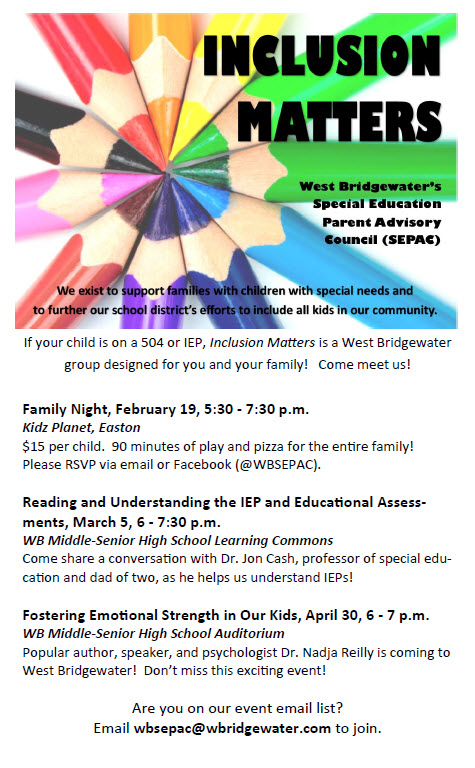 The West Bridgewater Public Schools' Special Education Parent Advisory Council (SEPAC) is a group of parents committed to supporting families with special needs and furthering our school district's efforts to include all kids in our community.
We meet on the first Monday of each month throughout the school year from 6-7:30 p.m. in the Learning Commons of the West Bridgewater Middle-Senior High School. Each month we host a guest speaker, a district or local expert on a topic of interest to parents with children with special needs.
We also meet for regular dinners and host family events. We hope you and your family will join us!
2017-2018 Officers:
Dr. Melissa Winchell, Chair
Ms. Mary Rohnstrom, Secretary
Ms. Victoria Gill, Information Coordinator
Ms. Tina Nolen, Treasurer
SEPAC e-mail: wbsepac@wbridgewater.com
---
West Bridgewater's SEPAC Resource List
"parents sharing support with one another"
Brockton Area Arc
All families in WB who have a child with special needs should be sure to join the Brockton Arc's email list! This organization is well known for providing jobs and daycare for adults with disabilities...what you may not know is that they do lots of programs for kids and teens with disabilities, and run sibling workshops for our typically abled kids, too. There are monthly play groups, field trips, camps, dance classes, music classes, and even respite nights during which parents can drop off their kids for three hours under Arc staff supervision and go out for dinner. And it's all free, or very, very cheap. And last winter they even bought group tickets to Disney on Ice so families like ours could attend way, way below cost!
To join their email list, send an email to their Recreation Coordinator, Christina Grande, at recreation@brocktonarc.net
I Run 4
One SEPAC mom shared with us that her kids are a part of I Run 4. This is an online community organization that matches kids like ours with runners who want to be inspired by our kids and want also to inspire our kids to reach their own goals (behaving better in school, for example, or overcoming a fear). We can register our kids online, and then our kid will be matched with a runner. Using Facebook, that runner will let our child know when he/she has gone running for them for example, a runner might tell our kid they ran 10 miles today for them.
It's basically a pen pal situation in which our kids are matched with a runner who becomes a sort of mentor and cheerleader for them! How cool is that?! And some runners and families decide to correspond via text, or phone, or even in person. Right now the organization has over 2,000 runners who are waiting to be matched with a child, so check it out online and consider signing your kid up!
TOPS Soccer
TOPS Soccer is a soccer league for kids with disabilities. The Brockton league was the only area league that returned our inquiry emails, but as you can see from the website, there are supposedly other choices in Bridgewater and elsewhere. For an application for Brockton TOPS Soccer (it's just $15 for the season and the team meets on Thursdays at 5:30 at the VA soccer fields), email Coach Rick Savignano at
Special Olympics Massachusetts
PreK and K age kids can participate in the Young Athletes program of the Special Olympics, held at the Middleboro YMCA on Sunday evenings. But as you probably know, there are all kinds of teams and options for our kids through Special Olympics . Visit their website to learn more.
House of Possibilities
There is a gorgeous house in Easton whose mission is to bring joy to people with developmental disabilities and their families. It's called the House of Possibilities . They offer respite care--full Saturdays, and even overnights. We are considering organizing a tour for our SEPAC group--they are an amazing organization. Their rates are reasonable, and for families needing a break for a few hours or a weekend, it's a wonderful, caring option.
Let's Talk Speech Therapy
A few moms in SEPAC love their kids' speech therapists at Let's Talk in Easton. You can find out more about them online.
MassHealth
If your child has a diagnosed disability, he/she may be eligible for MassHealth as a secondary insurance. Many families qualify, and when they do, they find that MassHealth covers their copays and other expenses (like free pullups or diapers) that their primary insurance won't. Some families have to pay for MassHealth (depending on their income), some don't.
Call MassHealth Customer Service at 1-800-841-2900 to apply.
MassHealth Premium Assistance
For some families who financially qualify, MassHealth is free. And not only that, in some cases, MassHealth will PAY you the cost of your family's primary insurance for your disabled child. MassHealth calls this program "Premium Assistance." Their philosophy is that they would rather pay for your child's primary insurance, then pay ALL your child's medical expenses--in the long run, it saves MassHealth money. The checks come in the mail, and families can spend them as they please, as MassHealth feels they are reimbursing you for the money you would have otherwise put out for your child's primary insurance costs. These extra funds come in handy for extra therapies or your child's bank account!
Call MassHealth Premium Assistance at 1-800-862-4840 to apply. Please note: You cannot apply for Premium Assistance until your child has been approved for MassHealth.
Brockton Department of Developmental Services (DDS)
If you child has a cognitive or intellectual disability, you should consider getting your child "DDS approved." It's a long application and interview process, but once approved, your child can qualify for free programs, PCA hours, and/or funds. Some families use DDS funds for therapy, for lessons, and for extra-curriculars.
Call Paulette Flynn in the Brockton DDS office at 508-427-8525 x 326 to apply.
PCA Services
Some families whose children cannot fully care for themselves (they need assistance dressing, bathing, brushing teeth, and so on) can qualify for a Personal Care Assistant (or PCA). A PCA is a person your family hires, and MassHealth pays, to come to your home and care for your child. There is an interview process involved. For more information about the program, please feel free to email mnwinchell01@gmail.com.
To apply, contact Cerebral Palsy's Options Program at 18009247570.
Please note: Your child does not need to have CP to be approved; it's just that this program has agreed to oversee our state's PCA program.
---
Upcoming SEPAC meeting dates (all at 6:00 PM at the MSHS Learning Commons):
---
DOCUMENTS

-