West Bridgewater COVID-19 PCR Testing Drive Thru on February 27th and 28th at the WB Public Safety Building at 99 West Center Street. Everyone is welcome. Check out the flyer for more details.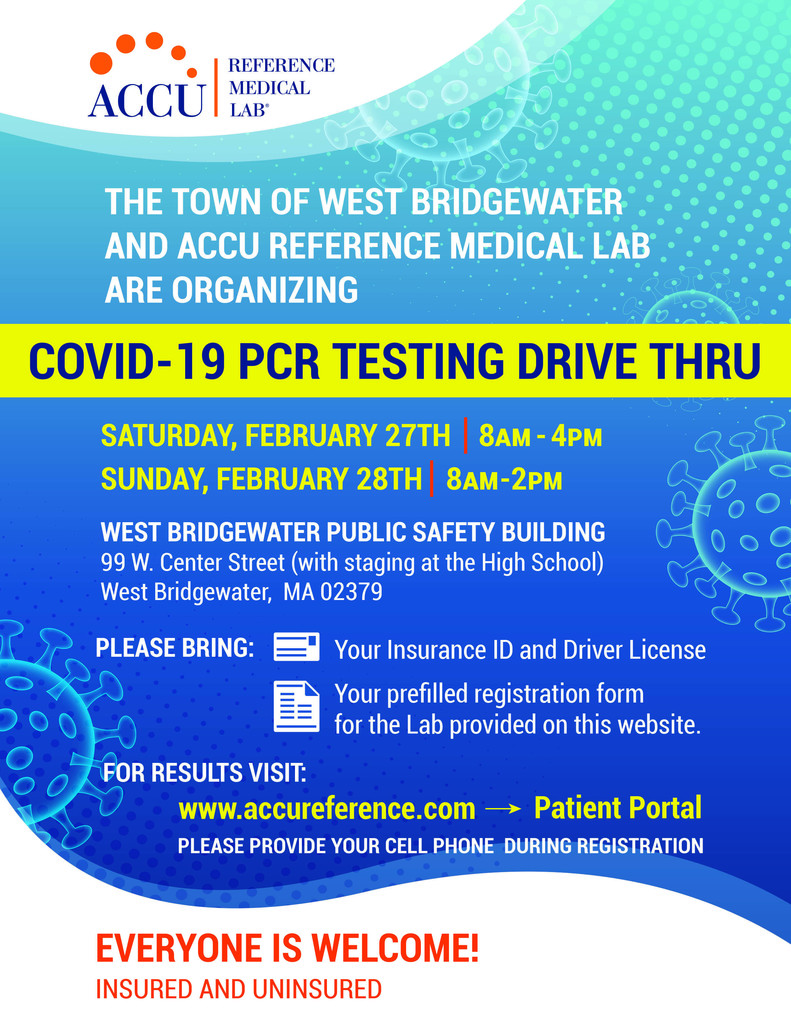 Superintendents Coffee Hour - Thursday, February 11th at 9am. Please note that the original date was the 12th. A google meet link will be sent next week to families through Aspen.

Tuesday, February 2nd - Will be a regular day of school with normal start times. Thank you to the WB DPW and our schools maintenance crew for all their hard work! As always be safe!
RLM Student Council APPLICATIONS: RLM will, once again, have a Student Council of student leaders! Second and third grade students are invited to complete an application to serve on the council. Council members will help our school continue to succeed in all that we pursue. Students who wish to be considered for candidacy should demonstrate leadership, cooperation, dependability, responsibility, kindness, and wildcat pride. Meetings will be held virtually on Wednesdays (1-2 times a month). If your second or third grade student is interested, please review the meeting information on the application and have your son/daughter complete the form to be considered. Completed applications are due by Wednesday, January 20th. This is a great opportunity for any student (those who attend school in person or fully remote)! Please contact Mrs. Enos, RLM School Council Adviser, with any questions at
jenos@wbridgewater.com
.

Reminder - Superintendent's Coffee hour today at 9am through Google Meets.

Community Assistance - Check out the Harvestwood Mini Food Pantry located at 47 Harvestwood Drive in WB. Take what you need, give what you can!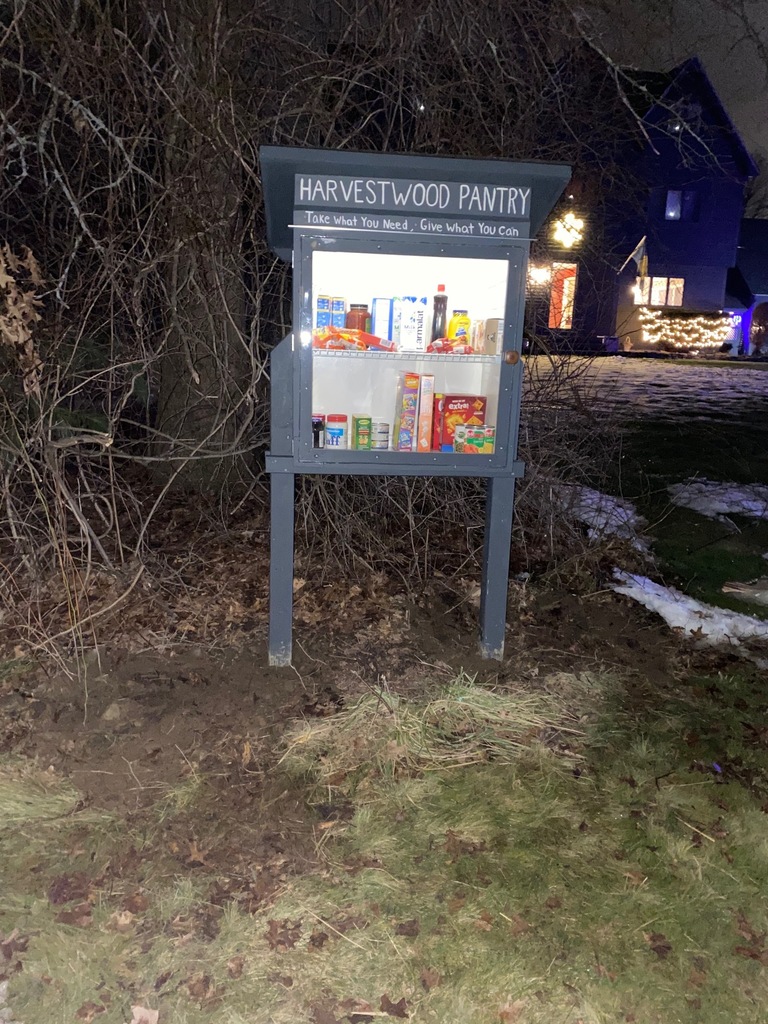 Superintendents Coffee Hour - Friday, January 8th at 9am. A google meet link was sent to all families in the WB Family Update email today.

Welcome back WB Students and Staff! Happy New Year to all and it is great to have our students and staff back in the buildings!

Get into the Holiday Spirit by checking out the WB staff Jingle Bells video. Great job by WB senior Alli Adams putting this all together. Enjoy!
https://youtu.be/WDZ4p6QToRs

Polar Express - A huge thank you to Mr. Cray and his students Sophia Crandall, Ashley Flaherty and Kaley Krivelow for filming and editing. So much fun continuing the tradition of reading this book to the Kindergarten students. Sorry we could not do it in person but it was fun to tape and then watch it with the students. Hope they liked their bell and the hot cocoa and marshmallows! Happy Holidays everyone!
https://youtu.be/4SuFzbKB03A

Friday, December 18th is an in person day of learning in West Bridgewater. An email was sent out to all families yesterday. Have a great day!

SNOW DAY - Thursday, December 17th is a snow day. This is a traditional snow day with no remote learning. Enjoy the day and stay safe!

Good morning. At the current time all Google services are down in our region. We are closely monitoring the situation and will reach out again when we have more information.

Hello WB Families - an email was sent home through Aspen today providing information from the school nurses. This includes updated information about the changes to the quarantining guidelines by the CDC.

Looking for Wildcat Gear for the Holidays? Check out the WBMSHS Athletic Boosters shop at
https://wbboostersgear.logoshop.com/
Check out the website or flyer for additional information. Items include backpacks, blankets, umbrellas. phone wallets, tumblers, masks, power banks, game day collapsible chairs, apparel and much more!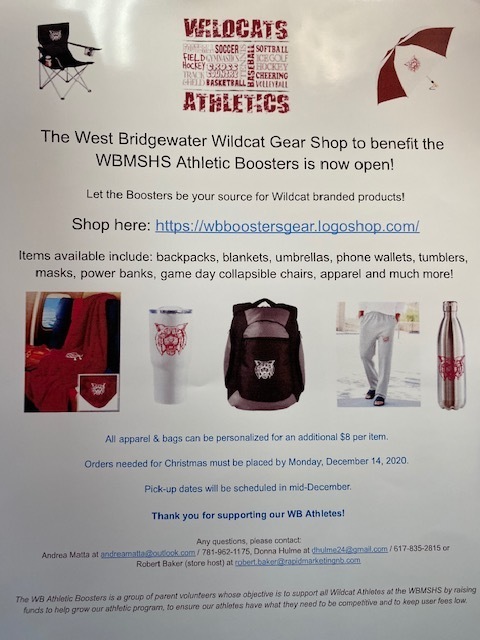 Superintendent Coffee Hour with Mr. Bodwell - The next scheduled Coffee Hour will be on Friday, December 4th at 9am. This will be a virtual meeting and the google meet link will be sent out next week via email.

Thank you Mrs. Wohlen, Spring Street School secretary, who is retiring. We appreciate all you have done for the students, staff and families in West Bridgewater. We wish you a happy and healthy retirement!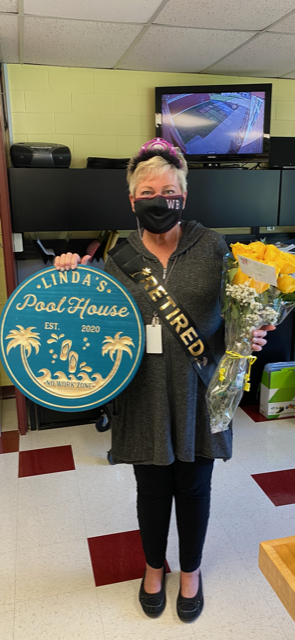 Attention WB Families - we will be sending out a survey to all through Aspen later this morning. There will be a survey for those in hybrid learning model and for those in elementary remote and secondary remote learning models. Thank you for taking the time to complete it.